Video dance shoot last night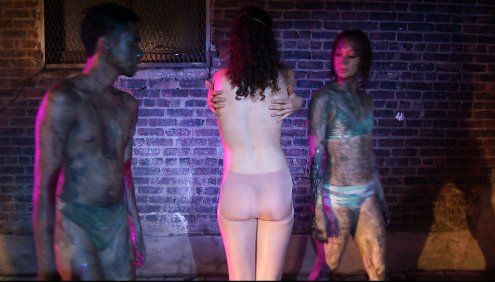 Owen David and I collaborated before on a film for his dance showcase, and we wanted to do one more collaboration before he left for dance school in Ohio. Last night was a six-hour insane experiment in tempura paint, cloth, lights, and dance. We're not sure what it's about, but we think it's about America.
The most memorable part was when I was standing 7ft up on a ladder and a branch fell 30 feet and hit me squarely on the head and shoulder. Surprisingly I did not fall off the ladder or die, and a CAT Scan showed no damage (you think I'm kidding..)
Thanks to Stefan for his generous help in obtaining the equipment, Alejandro, Tim and Dan for your awesome help and vibe-setting, and of course Owen, Sarah, and Amy for willing to do pretty much anything in the name of art.
Check out some low quality, non color-corrected preview pics.
Preview shots from today's shoot, posted by Michael Morgenstern on 7/30/2011 (6 items)