Ryoji Ikeda, The Transfinite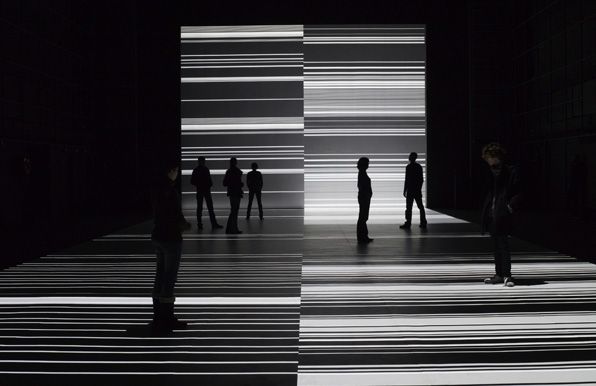 As I alluded to in my last post, I'm spending June at NYU's ITP grad program. It's a hard thing to describe, but it's kind of like an inventing camp for nerds. We learn how to make things (check out my MTA sign beta I made on Saturday!), about electricity and electrical programming, hacking things like the Microsoft Kinect, and fanning the flames of our creativity. My hope is to come out of it with a prototype for an art installation, plus perhaps a few other inventions.
To inspire us we went to see Ryoji Ikeda's "The Transfinite," an epic installation at the Park Avenue Armory. It is a huge multiscreen visualization of quantitative data designed to create an immersive experience. I thoroughly enjoyed it – even beyond what it is representing, the installation invokes a feeling of awe and a changed sense of time and place. I was entranced at an underlying order to the visuals and audio that I could not understand but nonetheless could feel.
I encourage anyone to go and take a look. It's at the Park Avenue Armory until this Saturday, June 11.