Music Video Release Party October 15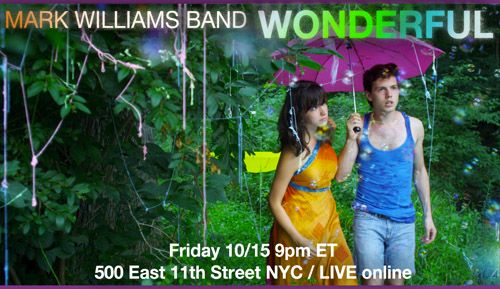 Hello Friends,
You're invited to the release party for my first music video "Wonderful" by Mark Williams Band! Three months ago ten of us ventured into the Pocanos wilderness to shoot the video on a RED camera, and thanks to their tireless dedication we have a product that I am extremely proud of. Come join us as we venture to a magical fantasyland and have a rocking good time. If you can't be there in person, we will also be broadcasting the event and msuic video online at a special website – http://musicvideo.everythingiseverything.com
The party begins at 9pm. At 9:30, Mark will play a short acoustic set and we will premiere the video. Angels & Kings is a sweet bar and they will be offering drink specials if you mention us: PBR + whiskey shot or 2 PBR's for $5 before 10pm.
This event will also be a sort of goodbye party; I'm leaving a few days later for Kenya with FilmAid International, where I will be in a refugee camp for 2-3 months teaching film, helping with screenings, and working to develop sustainable programs. I'd like to be able to say goodbye before I go!
If you're curious, you can listen to the song or read more about the production of the video.
Wishing you love and peace,
Michael
Cast:
Mark Williams (artist)
Noya Areto (beautiful woman)
Andrew Burten and Travis Erickson (sexy men)

Crew:
Michael Morgenstern (director/producer)
Mark Fagnano (AD)
Vadim Putimtsev (DP)
Mia Bienovich (costumes/set/makeup)
Han Fang Pao (AC)
Zach Charles (PA/awesomeness)
Toby Cohen (PA)
Katherine Atwill (PA)