Making Shabbat Dinner Part 3: Finishing the Film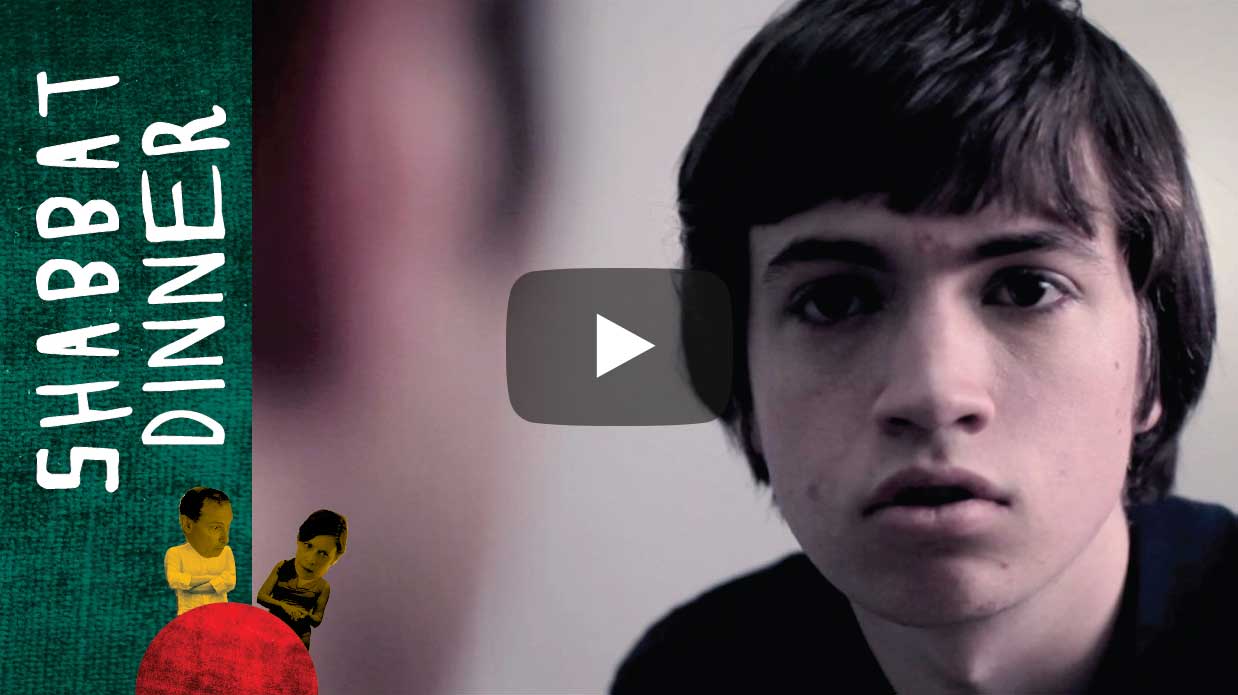 A four-part series on just what went into making a short film. You can also read part 1, preproduction, part 2, production, and part 4, distribution.
Post-production
Post production is arduous and time consuming, but immensely gratifying. The small changes accumulate slowly into full iterations, each one breathing a new and sometimes surprising life into the film. It is said that a film comes to life in the mind of a writer, dies on paper, comes to life through an actor, dies on film, and is resurrected through editing, but I think it dies and is born several times during post.
The first step was the edit, and with the need to deliver *something* to film schools by December 1 I wasted no time. A few days after shooting I began. Because we had shot with audio and video separate, the first step was to sync the audio. I went through every clip and found the point at which the clapper was slammed down, using that to sync the two; this process took two days! Then I began editing.
I usually divide my film into scenes and flit around the film, editing whichever scene strikes me and then moving on to another one when I find an impasse. I started with a few of the easier scenes, and then moved on to the scenes that were most crucial to the tone of the film. I usually like to start in the middle, because whatever editing style I choose for the film builds slowly until it is realized in the middle of the film.
The most difficult scene in this film was scene 6, the first kids' scene in the bedroom. Some scenes took an hour for the first edit – this one took two days. A few lines were awkwardly written (oops), and because it was the first scene we shot we did several run-throughs before the actors were really comfortable with their characters. When they really hit on their game, we had already shot some of our angles and did not have the time to go back and reshoot them. I also wanted long takes, but using long takes was going to hurt my ability to choose the best delivery of each line. I edited a cut together that had far too many cuts, and then searched for long, uncut shots to replace things I had edited together. I found that some parts of the scene were quite boring at this stage, but once I tweaked the cut, the angles, and the sound and we added some small bits of music, I stopped getting that feedback.
After the rough cut was complete I showed it to my roommates. For my music video last year, I didn't show it to a single person until it was finished, which was a personal challenge because I love getting responses from people. For this film, I felt that I needed all the feedback I could get. I started to hold test screenings once a week (for a total of four) and got invaluable responses to the characters and plot. It is really amazing that even when dialogue is already written and filmed, tweaks in editing can change so much
I sent off a very rough version on the film and then jammed hard on the gas to meet two festival deadlines on December 16. The festivals told me that if the film was accepted, they would screen the version that I sent in, so while it didn't have to be completely finished, it had to be at a point where I would be okay showing it at a festival.
What followed was insanity. To get a film from 90% to 99%, or 99% to 99.9% requires almost a doubling of time. Polishing the cut, re-editing it in numerous small and big ways, and working on a preliminary mix of the sound took insane amounts of time.
Because we did not have a tripod during the shoot (a weird equipment malfunction) some of the footage was pretty shaky. I applied motion stabilization to almost every shot in the film, but because of issues with jelly roll from the 5D and T3i we shot on, the stabilization made the footage very wobbly and odd-looking. The only solution was to use Rolling Shutter, an plugin that removes jelly motion. It is very expensive, but has a 14 day free trial that we used. I enlisted the help of my roommates' computers to render, but even with three modern computers, it took three days straight to render 15 minutes of footage.
With the jelly motion removed, I applied motion stabilization and marveled at the difference it made. Then came color correction.
Color Correction
Ah, the joys of color correction. With the amount that I talk about it, my friends will sometimes say "you love color correction." No. Trust me..I don't. I love *having* color corrected. Once I taught it to myself and had the experience of a film with consistent, controlled, and appealing colors, I could never go back. At Kris' suggestion, we had shot using the Technicolor Cinestyle preset, which created a muted, flat image that was music to my eyes. (A flat image gives the greatest flexibility in color correction.)
I used color to differentiate the different spaces in the apartment and clean up the color palette; I even changed Eva's dress from purple to red (we'd planned this out in the production, deciding that red fit her personality much better.)
End game
The last week of editing was the most intense, and I worked a few 16-hour days. I have a small room with a loft bed, and would climb down from the bed in the morning, start editing, brushing my teeth during the first render of the day, and keep going until it was time to go to sleep. I think I pushed the limits of my ability to stay awake, and I really regret doing that. My roommates told me that by the end I was speaking freakishly slowly; there is a two-day period that I don't really remember. I was driven on by these deadlines and neglected my health, sanity, and sleep. I remember going to the supermarket in a stupor and forgetting all social skills: I knew that I was supposed to say "hi, how are you" to cashiers at the supermarket, but I forgot whether I was supposed to say it to other shoppers while shopping, so I almost approached several people with a mumbles "hi, how are you." It began to seem comical to me that the world was operating on a schedule. I would walk down the street for food and be mildly confused that everyone else was doing the same thing: going to work, asleep, or whatever it was at that given time. After spending a week recovering, I vowed not to do that again; very little is worth that kind of lifestyle.
With twelve hours to go to the deadline, the computer refused to render the film. It was giving me out of memory errors due to the motion stabilization plugin. I realized I had to render the film in about six segments, each of which would take a half hour. Perfect, I thought. I need some sleep. So I would set the segment to render, set my alarm for a half hour from now, and pass out, awakening confused a short while later. Then I would watch the segment, make any changes I noticed needed to be made, and start rendering the next one. By about noon on the day of the deadline, I'd slept three hours and had a finished DVD in my hand, printed with an image on it and a DVD jacket. I handed it into some festivals and mailed it to a few others, and then slept for eight hours straight.
The next day I worked all day on a friend's photo shoot, and then a day later, I flew to Florida to sleep and rest for a week, deciding not to look at the footage again until mid-January.