Hope For Film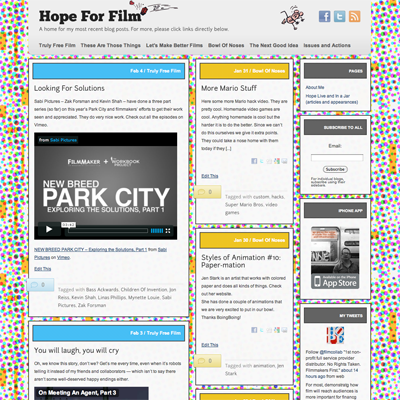 In interning at This is that, I've had the opportunity to do a number of tech projects with Ted Hope, an incredible accomplished filmmaker. I recently designed his Facebook page and built  an iPhone app for his blog. It really was an honor to complete this latest project, a redesign of his six blogs. These blogs provide endless insight and wisdom, not just about the future of film but also about politics, good movies, and life. In fact, they're how I discovered him and This is that.
His most popular blog, Truly Free Film, along with five (!!) other blogs that he posts to less frequently, resided on blogspot.com. It didn't give him much control over them or allow him to integrate them into a coherent blogging identity, so we decided to put them all together under a new "Hope For Film" moniker. I Hope their individual traffic will build off itself and cause people to stay at the sites longer.
It was a lot of fun designing six separate color schemes that all somehow integrated, and we were guided by Ted's existing blogs and favorite album covers. When we finished a draft this morning, he added tons of wacky suggestions, giving us the hot pink and green These Are Those Things and the pseudo-porn-like, ironically uncinematic Let's Make Better Films, as well as the antics of Krazy Kat and a multiracial nose bowl.
If you want to make the Blogspot jump yourself–and it's highly recommended–check out this useful guide as a jumping-off point. Officially, we used a meta redirect, but what really got this site pumping was a lot of love and just enough mojo.