FilmAid Blog: Beginning of shooting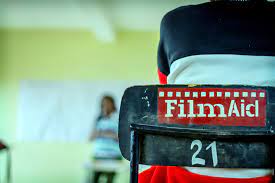 Check out what we've been up to in my recent post on the FilmAid blog, with photos!
FilmAid Dadaab has begun production on a new public service film, "Not Me But The Law," and the first week of production has been a blast!

Not Me But The Law, written and directed by Denis Otieno, is a film about sex and gender based violence and the destruction it can cause. The film features Fadhumo, a 14-year-old girl who is raped, and Amina, her 15-year-old sister who is arranged to marry a wealthy older man. Through their stories and discussions of Kenya's Sexual Offences Act of 2006, the film explores issues of violence against women and restriction of their freedoms. The film concludes that no matter how individuals feel or what religious institutions mandate, there is no choice in the matter when it is a legal issue – it is not me, but the law.