Definitive Guide to DIY Film Festival Distribution: 10 Steps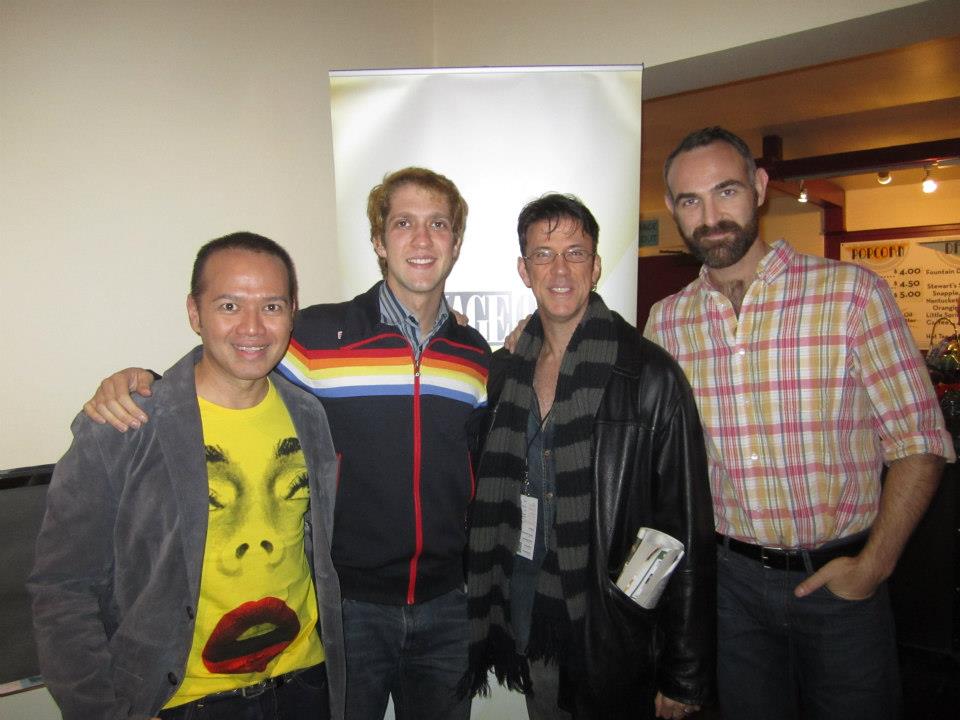 Cross-posted with Huffington Post.
I was at a San Francisco Film Society party last night speaking to someone who had just had to do a festival distribution for a friend's short film. "It's hard!" they said, and I found myself commiserating. Putting a film out there through the festival circuit is labyrinthine, and way more work than it really has any right to be. I've done it twice, putting Shabbat Dinner (2012) to 55+ festivals and Lily in the Grinder (2014) through nine so far, and as I was speaking to this new friend I realized that I have a ton of information to convey that will be helpful to people going through this process for the first time.
Before we begin, two notes: first, the best festival plan for you might be to distribute it on YouTube for free. It's hard to argue with this as a way to get your film out there: Shabbat Dinner was seen by about 5,000 people in all 55 film festivals, and then hit 100,000 in just a few months of a YouTube release. Some fests will accept your film, some won't. The upside of a festival run is that you get to GO TO FESTIVALS, which is where I've met most of the great filmmakers I know now. Second, be sure to budget a good amount of money for this, between $400-1400 depending on how you do it. It's really, cripplingly expensive (see the first note.)
So here's a step-by-step process of things you should do for your film. This should apply to features as well as shorts. Please share yours in the comments and I will update the list!
Build a plan and a timeline. Many first- and second-tier festivals want to be among the first to pick up a short film, so choose your first few festivals carefully. They will set the trajectory of your film in the eyes of other festivals, potential audience members, and industry folk. Also, acceptance into a major film festival (Sundance, Tribeca, Toronto, or Frameline/Outfest for LGBT films) will automatically send dozens of smaller fests knocking at your door and offering you free entry — already having their attention and not paying those fees is *huge*!

Note that Sundance doesn't care if your film is a few years old, but it's still nice to premiere there if you have the option.

Good resources:

Moviemaker's 50 Film Festivals Worth the Entry Fee

, and your own Googling. Yes, apply to Sundance, but also look for the smaller festivals that will be a perfect fit for your film. Search for festivals that cater to your genre. Don't ignore Europe, Asia, South America.

*Pick a lot of festivals — you will be rejected by 2/3 to 90% of these!*

Make a spreadsheet. I put the festival's name, location, submission date (there are usually several submission dates, pick the one you want to aim for), festival dates, who my contact is, and their phone number. The first column is "status" which is usually either "contacted", "submit now!", "submitted", "accepted", or "rejected". I use conditional formatting to highlight this column in different colors depending on what's in there.

Don't worry about keeping this neat and tidy, it's not worth the work. If you get an email from someone and apply to a festival by replying to that email, jump into your spreadsheet and add a row for the festival with the word "submitted" and be done with it. You can fill out details later. It's only useful if it's useful to you.

Film deliverables. Make several versions of your film:

– Quicktime h.264, full quality. I suggest about 5 megabits per second. Encode it with your video editing program, and leave about 5 seconds of black in the front.

– Quicktime Prores (422 is probably good enough)

– The same two as above for your trailer

– Screener video (details below.) No black in the beginning of the video.

For Lily in the Grinder I made a "festival version" and an "internet version" — the former says "Watch again at lilyinthegrinder.com" above the credits. I also made a Concert Edition with no dialogue, which I had to export in both ProRes and h.264.

– DVD: use DVD Studio Pro or Titanium Toast to make an autoplaying DVD. In the past I made two versions, one with a screener watermark and the other without, but these days most of your screeners will be online so it's not really worth it. *Make a DVD image file and keep it with your other deliverables, so you can make more or send it over the internet.*

A note about deliverables: you may be asked to provide an HDCAM, DCP, or other formats. They are uncommon enough these days that I wouldn't worry about them until you are asked.

Another note: I got a printer that prints onto blank DVDs for $100, which is nice when you are making only a few and want them to have fancy art on them.

Other deliverables. Do all of these before you begin your film festival submission process and your life will be much easier. Most of the pain in filling out the forms is having to recreate this work:

a) A private, password-protected Vimeo link to your film: I encode my film with the word "TEST SCREENER" on it in light letters, mostly to require a festival to notify me when they want to screen the film. You'll be sending this link to hundreds of people, any of whom can grab the film, so I recommend this. Use

Vimeo Plus

($10/month) or an

unlisted YouTube video

. People like the feeling of a password and it is industry standard, which some people care about, but in the end both are pretty easy to share. (Side note: I'd love to make a product that works better than Vimeo and tells you who has watched your film, whether they watched the whole thing, etc.)

b) A document with a bunch of details about your film:

– contact information

– title, length, shooting format (camera/file type), formats available, website, social media URLs, shooting location

– logline (1-2 sentences describing what the film is about)

– short synopsis (200 words), medium synopsis (paragraph or two)

– your bio

– director's statement (if they want to quote you on the film, or something. try not to sound pretentious.)

– full list of film's credits

I call this document "Lily in the Grinder – Synopsis Summary Statement Credits.pdf" — make it look pretty.

While you're at it, I would write out a few sample emails. Your goal is to get good at describing exactly what is compelling about your film in a few sentences.

c) 2-5 still images from the film, in highest resolution JPEG

d) The film's poster, high enough quality to reprint. You might want a version with space on the bottom for a screening date. Spoiler alert: at most one festival will use this. It's still cool to have.

e) Your headshot/photo

b+c+d+e are your presskit, along with any supplemental video you want to share. Here,

take a look at mine!

Make a Dropbox folder. Put your film, trailer, and presskit (in folder form, but also in .zip form) into one Dropbox folder. There you go — now you have a SINGLE LINK to send people any time they ask you for anything.
If your film is LGBT or experimental, check out the CFMDC. For a one-time fee, they will distribute it to festivals for you, only the ones that pay screening fees, and get you a screening fee. They are also really nice and Canadian.
Make an account on Withoutabox, a site that allows you to easily drain your bank account and submit to several festivals. Create your project (aren't you glad you wrote all those things out earlier?) and upload your film as a private screener. I also make an account on FilmFreeway and Shortfilmdepot.

A few notes: festivals hate Withoutabox, but it's still the biggest and best. The quality of your video screener is terrible, but it's FAR more convenient than mailing out the film every time you send it. Gah.

Now it's time to approach film festivals. When working on films with a very low budget, I always ask for fee waivers (with a polite phone call and my two-sentence description of the film.) Some festivals will say no or even be offended. My opinion: charging poor filmmakers over $20 to submit a short film, for which they are overwhelmingly likely to be rejected, is just wrong. If you can't make your money on ticket sales, advertising, and bigger budget films, don't bleed young filmmakers dry on hope.

If you have any connections to anyone at the festival, use them! Nepotism abounds in this process, unfortunately. As for reaching out personally, I've heard mixed opinions on this. Some festival programmers really appreciate a blind email or phone call, with a personal note, a quick description of your film, and a vimeo link. It might cut through the noise. Other programmers, though, find it annoying. Use your judgment, and if you really care about a festival I think it pays to be persistent.

Keep diligent track of which festivals you have submitted to. Every few months, go back to your spreadsheet and submit to more. You'll get rejected by most of these, so prepare for practice in letting things go! Shabbat Dinner was in 55 fests but probably rejected by 120 more.

Wait to hear back / keep checking! You sorted that spreadsheet in date order, right? Every once in a while, take a look at the festivals that are two months out and search their websites. Sometimes the smaller festivals forget to tell you you're in, even if they desperately need your DVD!

Ask for a screening fee. Remember that these festivals are usually run by a very small amount of passionate, overworked individuals. They are taking a LOT of their time to watch your films, and they sincerely want to program more than the amount of slots they have. Empathize. Be nice.

Put your film on the internet yourself. As I said earlier, you can reach a bigger audience online, but you can be sacrificing the possibility of having a good festival run. I recommend waiting until you have a few acceptances under your belt. You can check out my post, Ten things I did to distribute Shabbat Dinner, for some additional tips.

There's a few ways to do this:

– YouTube/Vimeo. There's no arguing with free. You've already sunk so much time into your film, you're probably not going to make any money off it, so let's get some exposure. Do a promotional campaign along with this release and try to get on things like Vimeo Staff Picks or Short of the Week. Personally I prefer YouTube because they make it easier for people to discover your film (plus Vimeo has this idiotic thing where they make you choose whether to show your film in 720p or 1080p, where YouTube serves the version that is correct for the user.)- Roll your own website. I did that for both films, building a paywall for Lily in the Grinder that has encouraged people to share the film ($4 to watch it, free if you share it on Facebook.) It's like building your theater and choosing exactly how you want the film to be experienced, and you should do it even if your film is up on YouTube (just embed it!)

– Community video sites:

Seed&Spark

,

Fandor

, Wolfe, TLA, Distrify, Vimeo on demand. Smaller video sharing sites will curate your film, put it out to audiences, and get excited about it. I love Seed&Spark and Fandor because they are great people.

– The behemoths: Amazon, Google Play, iTunes. Quiver Digital will (for $400 a pop) put your film on iTunes, Google Play, and Amazon. You can get your film on Amazon for free through their company

Createspace

, which also lets you build a physical DVD package that is assembled one-off as people order it: no need to worry about inventory. There are other aggregators as well, but I liked Quiver.

The catch with the sites in these two sections is that you can't have your film out there for free *and* sell it. Which route you choose is up to you: my general formula is to release it on all these sites a few months into the festival run, and then put it out for free about two years later…but there's a huge argument for free.
Through this process it's very easy to get sidelined and pulled away from working on your next film — if you're looking for distraction from thinking about the next thing, the festival submission process is about as good a distraction as anyone could invent, which is a good reason to do all the work up-front as I suggest here. I've had a few interns help out with the process over the years, which has been invaluable.
And have fun at the film festivals! They are a great opportunity to meet people and build an audience for your work. It's a huge world out there, and some small segment of it really, really wants to watch your movie!