Interview with Brandon Shire: Getting Shabbat Dinner out to LGBT Youth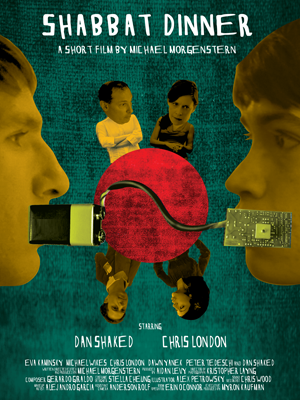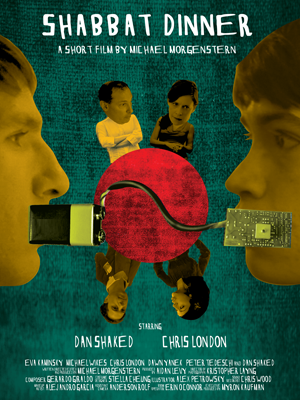 (Originally posted on May 7, 2013)
Check out my interview with author Brandon Shire about my attempts to get Shabbat Dinner out to LGBT youth and its launch as a Pay-What-You-Want model.
You can watch the movie at shabbatdinnerfilm.com. Article cross-posted from Brandon's blog:
Welcome Michael Morgenstern, Writer and Director of Shabbat Dinner, a short film about gay youth. You can see the film online. It is a pay-what-you-want with 10% of the profits going to the Ali Forney Center which combats LGBT youth homelessness. (See the trailer below.)
Brandon: I really liked your film. Tell us what motivated you to create it.
Michael: Well, I'd been working on a TV pilot for years about growing up gay in Los Angeles at age sixteen. In the nineties, it wasn't what it's like now. There wasn't a world for us–everyone who was out was older. As I worked on it, I was continually re-motivated to work on the script by all the articles in 2011 newspapers about gay teen bullying and suicide. Every time I read one I was powerfully affected to do something to reach these kids.
Brandon: How hard was it to make?
Michael: Every part of making a film, even a short one, is a challenge, and we set out diligently to find actors, locations, and a crew. I looked for theater actors, reasoning it would be easier to find an established and talented actor who was successful on stage and looking to get into film than it would to find an already established film actor. I sat down with my friend Matt, who listened to the character descriptions I gave him and came up with ten actors for each character. Then I looked up all their agents and called them. About sixty to 100 calls later…no joke…we had most of our actors.
Brandon: How did you go about finding the young actors, especially two who were going to play gay teens?
Michael: For the teens' roles, I went to a few acting teachers I knew and posted a bunch of times on Facebook, and eventually found my way to Dan Shaked and Chris London, who were absolutely wonderful. The whole cast was wonderful.
Brandon: The reaction to the film on the circuit has been very positive. Did it start out like that?
Michael: Our first few festival submissions received rejections — late submissions of an unfinished rough cut to the bigger fests, which are hard to get into even with a finished film and applying at the right time. Then I got into the Hong Kong International Film Festival, and after that, acceptances began to trickle in. When we were announced as part of Frameline, the trickle became a stream and I began receiving invitations left and right. I got so many that I made a shortcut on my computer so with six keystrokes I can email out the screener video.
Brandon: Is this film geared toward LGBT teens or adults? I know one of the scenes in it has caused some controversy.
Michael: As far as I'm concerned, this film is for teens. I made it to reach kids who are struggling with issues around coming out and being accepted for who they are (and not just with regards to their sexuality.) I was approached very early on by some educators and people who run organizations that deal with Gay-Straight-Alliances and schools, and I reached out to a few others. People who watched the film were very excited to see it, but inevitably when it came time to present the film to a committee, it was deemed too racy or sexually explicit. I offered to remove the controversial scene — I wasn't thrilled to do so, but in the end I'd rather the film get seen. It wasn't enough, and I think that even without that scene the film opens up too many doors about religion and identity, and the safer decision for an educator is not to show it.
I know that it will impact teens, though, and that the images that educators might consider objectionable or questionable will not be so to the majority of teens…but until the film wasavailable online the only way to high-schoolers has traditionally been through educators. I'm sure there are many educators out there who would be interested in the film, but I haven't met them yet.
Brandon: Can you give us a hint about what you have coming up next?
Michael: Oh, man…lots. I directed two music videos that were a lot of fun, which were released a few months ago. I'm directing an abstract short film that I wrote about death and temporality. The talent involved, between the cinematographer Judy Phu, the composer Jonathan Russ, and the cast, who we're not ready to announce yet, is so strong and I'm really thrilled to see this shoot happen. I'm also writing two features and planning a few other music video projects. If readers are interested, they can sign up for my mailing list (I don't send too much, I promise!)
You can contact Michael on Facebook or Twitter, and connect with the page for his new film on Facebook.
Watch the film at shabbatdinnerfilm.com!